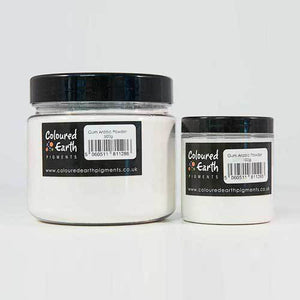 Gum Arabic Powder
Coloured Earth Pigments
This high-quality Gum Arabic powder is perfect for combining with our pigments to make your own artist quality watercolour and gouache paints.
Add the Gum arabic powder to hot water to create the binder and then add a small amount to our great non-toxic pigments to make beautiful and vibrant, handcrafted watercolour paints that don't contain fillers or chemicals. Check out the how-to guide to making watercolour paints
Gum Arabic is made from the sap of the Acacia tree. Acacia Senegal which is also known as the Gum Arabic Tree produces the highest quality grade of Gum Arabic.
The gum in the paint also acts as a glaze which increases luminosity, prevents colours from lightening and stops the paint from bleeding beyond the brush stroke. It also increases working time by slowing water evaporation.
Available in 100g and 500g Tubs
take a look at our  How-to make a gum arabic binder video on our YouTube channel.