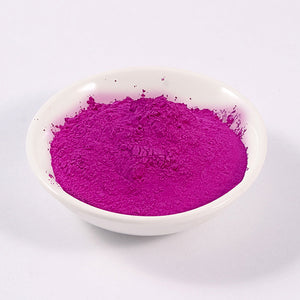 Rose Fuchsia- magenta, pink pigment
Coloured Earth Pigments
Rose Fuchsia pigment from Coloured Earth is an intense deep magenta pigment manufactured in France. This pigment is also known as Quinacridone Magenta and Permanent Rose.
Technical Info:
Pigment Name: Magenta Rose – 271
Other Names: Quinacridone Magenta, Permanent Rose
Pigment Type:  Manufactured Colour
Country of Origin: France
Colour Index: R122
Density: 720 g/l
Chemical Make-up:  Dimethylquinacidone (organic pigment) bonded onto a mineral base
Chemical Formula: TBC
Lime Stable? Yes
Suitable for External Use? No - may fade prematurely in Direct Sunlight
UV Rating: Average
Colouring Power: Very Good
Particle size: 50 microns (325 Mesh)
Heat Stability: TBC
PLEASE NOTE: The images shown are for guidance only. Image colours can vary depending on monitor/screen setup.