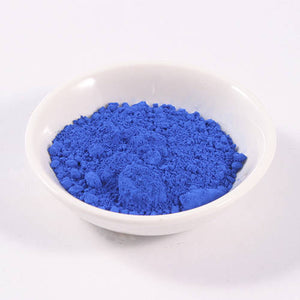 Ultramarine Blue - rich blue pigment
Coloured Earth Pigments
Ultramarine Blue pigment from Coloured Earth. A rich blue pigment manufacture in the UK.
Lime stable when dry, mix with lime wash or lime paint and apply immediately. Colour will fade quickly if stored wet.
WARNING: Mixing this pigment with an acid will create a strong sulphurous odour - not suitable for the manufacture of bath bombs that contain citric acid or similar.
Technical Info:
Pigment Name: Ultramarine Blue – 284
Pigment Type:  Manufactured Pigment
Country of Origin: UK
Colour Index: B29 – N° CAS : 101357-30-6
Density: 648 g/l
Chemical Make-up:  Sodium aluminosilicate polysulphide
Chemical Formula: Na6Al6Si6O24S4
Lime Stable? Yes*
Suitable for External Use? No - may fade prematurely in Direct Sunlight
UV Rating: Average
Colouring Power: Very Good
Particle Size: 50 microns (325 Mesh)
Heat Stability: Colour Stable to 150°C / 300° F
*Lime stable if it used as soon as it is mixed.
PLEASE NOTE: The images shown are for guidance only. Image colours can vary depending on monitor/screen setup.